Overview
Surgeries to lengthen a leg are generally only performed when there is a difference in leg length of greater than four centimeters. These types of surgeries can be more difficult and have more complications, such as infections, delayed healing, dislocations, and high blood pressure. In a several step process, bone lengthening surgeries involve cutting a bone in two in order to allow new bone growth to occur. After the bone is cut, a special apparatus is worn with pins that will pull the bone apart at approximately one millimeter per day. This causes osteogenesis, or new bone growth, in between the cut bone segments. A cast or brace may be required for several months after surgery to allow the new bone growth to harden and provide extra support.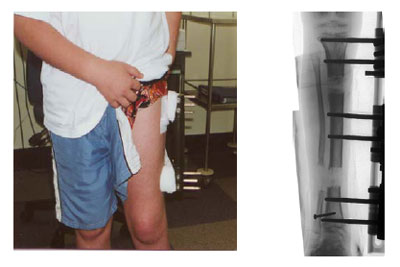 Causes
Some limb-length differences are caused by actual anatomic differences from one side to the other (referred to as structural causes). The femur is longer (or shorter) or the cartilage between the femur and
tibia
is thicker (or thinner) on one side. There could be actual deformities in one femur or hip joint contributing to leg length differences from side to side. Even a small structural difference can amount to significant changes in the anatomy of the limb. A past
history
of leg fracture, developmental hip dysplasia, slipped capital femoral epiphysis (SCFE), short neck of the femur, or coxa vara can also lead to placement of the femoral head in the hip socket that is offset. The end-result can be a limb-length difference and early degenerative arthritis of the hip.
Symptoms
Patients with significant lower limb length discrepancies may walk with a limp, have the appearance of a curved spine (non-structural scoliosis), and experience back pain or fatigue. In addition, clothes may not fit right.
Diagnosis
A systematic and well organized approach should be used in the diagnosis of LLD to ensure all relevant factors are considered and no clues are overlooked which could explain the difference. To determine the asymmetry a patient should be evaluated whilst standing and walking. During the process special care should be used to note the extent of pelvic shift from side to side and deviation along the plane of the front or leading leg as well as the traverse deviation of the back leg and abnormal curvature of the spine. Dynamic gait analysis should be conducted during waling where observation of movement on the sagittal, frontal and transverse planes should be noted. Also observe head, neck and shoulder movements for any tilting.
Non Surgical Treatment
Whether or not treatment should be pursued depends on the amount of discrepancy. In general, no treatment (other than a heel life, if desired) should be considered for discrepancies under two centimeters. If the discrepancy measures between two and five centimeters, one might consider a procedure to equalize leg length. Usually, this would involve closure of the growth plate on the long side, thereby allowing the short side to catch up; shortening the long leg; or possibly lengthening the short leg.
deelsonheels
Surgical Treatment
Large leg length inequalities can be treated by staged lengthenings or by simultaneous ipsilateral femoral and tibial lengthenings. Additionally, lengthenings can be combined with appropriately timed epiphysiodesis in an effort to produce leg length equality. Staged lengthenings are often used for congenital deficiencies such as fibular hemimelia, in which 15 cm or more may be needed to produce leg length equality. We typically plan for the final lengthening to be completed by age 13 or 14 years, and allow at least 3 years between lengthenings. Lengthening of both the
tibia
and femur simultaneously requires aggressive therapy and treatment of soft tissue contractures. Curran et al[57] reported the need for surgical release of soft tissue contractures in 3 of 8 patients treated with simultaneous ipsilateral femoral and tibial lengthenings. Lengthening over an IM nail can be done in an effort to decrease the amount of time the fixator needs to be worn and to prevent angular malalignment. This technique requires that the patient be skeletally mature and it carries a higher risk of osteomyelitis (up to 15%). Additionally, if premature consolidation occurs, a repeat corticotomy is more difficult.